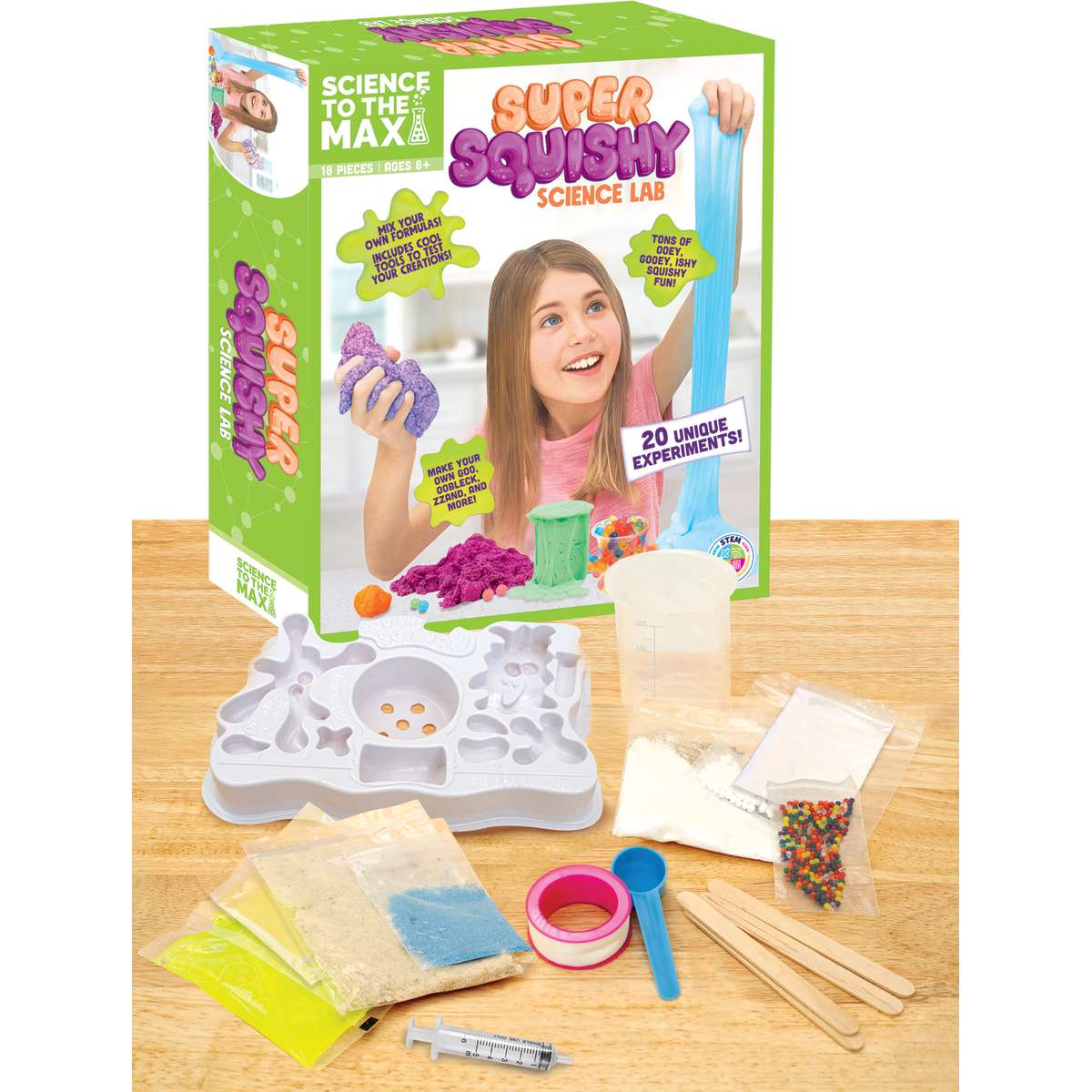 ---
Product Media
Squishy Science Lab
Choking Hazard - Small Parts
WARNING: CHOKING HAZARD - Small parts. Not for children under 3 yrs.
Here's How You Can Ignite the Curiosity of Young ScientistsIf your kids get easily bored of conventional games and if you are...
Here's How You Can Ignite the Curiosity of Young Scientists
If your kids get easily bored of conventional games and if you are looking for a way to keep them busy and away from tablets, computers or TV screens, then we have got the perfect activity to entertain your children and help them learn many scientific facts in the process.
Introducing the Ultimate STEM Science Lab by Be Amazing! Toys!
The Be Amazing! Toys putty slime science lab for kids is a fun and educational activity for boys and girls. Give your kids the chance to explore and discover the world of polymers. Help them observe the differences between oozing, stretching, and molding through a variety of over 20 experiments, and watch them as they are having a blast in the process.
Explore the Amazing World of Polymers While Having A Good Time
The Be Amazing! Toys quicksand science kit will be the perfect activity to promote STEM education while being extremely fun. A great activity for rainy days or parties, our slimy science lab will keep kids away from video games and offer endless hours of fun and games for the whole family to enjoy.
20 Fun Science Experiments
Our kit consists of more than 20 experiments specially designed for children. With a little help from their parents and the easy-to-follow instructions included, kids will be more than able to begin their oozing experiments..
Your Kid's First Real Science Lab
The Be Amazing! Toys science lab is a hands-on kit that will engage kids in true experiments like real scientists. Provide your kids with a real lab and watch the next scientists in the making
Make Your Own Slime, Putty
Inspire children to learn through play in the most fun way. Let them create their own slime and help them understand the variations of matter while they are having fun with their creations.
What You Get:
1 x Experiment Tray for Testing Your Gooey Creations
1 x Tape Roll for Holding Your Molds and Ingredients Together
1 x Measuring Scoop for Accurate Measurements
4 x Mixing Sticks for Stirring the Slimy Mixtures
1 x Beaker for Keeping Your Magic Sand and Gooey Slimes
Slime Activator (0.34oz/10ml) & Sand (1.76oz/50g)
Magic Sand (0.35oz/10g) & Snow Powder (0.17oz/5g)
Worm Activator Pellets (0.10oz/3g) & Worm Goo (1oz/28g)
Garbled Marbles (0.17oz/5g) & Instruction Manual
Forget Boring Activities
Homeschooling doesn't have to be all workbooks and homework, there's a load more fun you can have when you are trying to think outside the box. The Be Amazing! Toys science kit will help you do exactly that.
Support STEM Learning
By exposing children to STEM education and offering them chances to examine STEM-related ideas, they will acquire enthusiasm for it and hopefully seek a career in a STEM field.
Prime Quality Materials
The Be Amazing! Toys kit is made with the finest materials in order to be completely safe. Now you won't have to worry about your kids' safety thanks to the quality checks conducted for our science kit.
Spend Time Together
Taking into consideration the urge to spend some quality time with your children we developed a variety of experiments that take just a few minutes each. Spend quality time while reinforcing family bonds with your kids.
No customer reviews for the moment.